Facilities Terms & Conditions
The Accommodation:
Wagon I – ENTHORPE –
Consists of 2 fully refurbished railway wagons
dating from the 1940's, which now function as the
luxurious bedrooms. A central wooden cabin and
corridor connects these along with the galley
kitchen and bathroom. In all the whole construction
extends to approximately 70 feet and sleeps 4 in 2
double bedrooms.
Wagon II – MIDDLETON –
Consists of ex 1942 LNER wagon no 253941 which
is now the sumptuous Edwardian style lounge. The
unique "Wagon" bed, large kitchen/diner, separate
shower and novel WC completes the package. In all
the whole construction adds up to more than 600
square feet and sleeps 2 in the double bedroom.
Wagon III – BAINTON –
This accommodation consists of 2 ex LNER wagons
– a 1940's fruit van and our oldest a 1927 wooden
chassis wagon. It has 3 bedrooms – 2 doubles & 1
twin ie 1 four poster one half tester and 2 bunks.
The shower is a genuine local red telephone box
and the toilet is a copy of King Arthur's throne –
AKA "Arthur's Seat" – for that very regal
experience!
With little traffic and no noise, it all adds up to a
unique experience in an idyllic setting, in a location
which is – perhaps the most undervalued,
unexplored & unknown – The Yorkshire Wolds.
Other Facilities:
All properties are fully gas centrally heated and
double-glazed. There is ample parking within the
confines of the three-acre garden.
Sited on the original platform and enclosed within
its own garden there is plenty of space for
barbecues, sunbathing (weather permitting!) or just
relaxing in pleasant surroundings.
Cats and dogs:
All pets are welcome - except Giraffes, Sabre
toothed Tigers and Hippo's
(unless full house training can be demonstrated).
No charge is made for these facilities.
All we ask is that you hoover up before leaving and
keep all pets off the furniture.
In ALL cases any animal brought on holiday must
be kept on a lead for the protection of the horses,
dogs and cats that live here. In addition there is an
assorted menagerie of chickens, turkey and geese
roaming freely so dogs should be kept on leads at
all times when outside.
All services – electricity and gas* – are included in
the price. Both Enthorpe & Bainton can
accommodate a cot but this must be requested
before arrival.
*Please note that due to the spiraling cost of fuel
that each holiday is limited to one large tank (47kg)
of gas. Further supplies can be obtained at the
prevailing rate from ourselves Currently £55 each.
We apologise for this but we are unable to absorb
this cost any longer
Our Promise….
We, your hosts, will do everything within their
power to make your stay at THE WAGONS as
enjoyable as possible. Our knowledge of local
history, places to visit and recommended pubs is
unparalleled…. A tough job but someone has to
take it on….
We would be only too happy to cater for your every
need to ensure your holiday is tailor made to your
requirements.
We look forward to meeting you soon.
Julie & Stephen Crawford
Enthorpe Station House
Nr Middleton on the Wolds
Driffield
East Yorkshire YO25 9DG
Telephone 01377 217342
Email sjcrawford@btinternet.com
Terms, Conditions & Prices:
All prices are fully inclusive of electricity, 1 tank of gas, lall bed linen and
towels. Pets - including cats , dogs, bird, rabbits etc free of charge.
Please note you are expected to provide their bedding etc.
Terms & Conditions:
Earliest arrival 15:30 latest departure 10:30

.
25% deposit is required at the time of booking, the
balance to be paid six weeks before arrival.
Cheques: Payable to Stephen Crawford.
Prices to include all linen, towels, heating and fuel.
Cot and high chair available on request please
state requirements at time of booking.
A STRICT NO SMOKING POLICY IS ABSOLUTELY
ENFORCED INSIDE THE WAGONS FOR
SAFETY/INSURANCE REASONS. Failure to adhere
to this rule and your holiday will be terminated
immediately.

Smoking Outside no problem.
•In the event of cancellation within 6 weeks of the
due date of arrival - unless the property can be re
let – any monies owed will be due in full.
Consequently it may be a wise precaution to
ensure holiday insurance.
Short breaks: 3/4/5 nights subject to availability.
The owners retain the right to alter or amend the
terms and conditions as well as the contents and
description of the property.
In the event of cancellation by the owners all
monies will be returned in full.
Please note:
As these are genuine railway rolling stock, all doors
and access points (with the exception of the front
door, which is "normal" size) However in
ENTHORPE, 4 berth, some doors are the same
dimensions as those found in railway carriages of
the 1960's. Therefore in certain cases some large
or non able-bodied persons may find access
difficult.
Should you have any questions please do not
hesitate to ring Julie or Stephen.
01377 217342. (24/7 Answerphone)
Enthorpe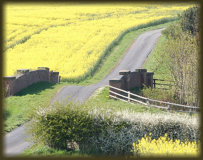 ENTHORPE
is located 10 miles northwest of
BEVERLEY and 18 miles to the East
of YORK. The nearest coast is 20
miles away at FLAMBOROUGH.
With SCARBOROUGH,
BRIDLINGTON, WHITBY all within
easy reach. Not only are the WOLDS
beautiful and unexplored but they
are sited so you can explore the
NORTH YORK MOORS and the
DALES ......
BUT WHY ???
.....when you have miles of scenery
like this. No cars, no noise, no
pollution and very little population
(ENTHORPE population is currently
6. 4 Adults and 2 children… Around
every corner is a picnic site, every
village has a pond, a pub. OR BOTH!
... And since 2007 there's even a
TESCO at MARKET WEIGHTON -
With fuel - Wow!, we will be getting
post next! Pilgrims walk barefoot
from as far afield as Mombasa!
Actually I meant Middleton, I always
get them mixed up…
All this and every home comfort you
can imagine.....
ie electricity.... which arrives by
bucket daily on the back of a bicycle,
(ridden by Horace...) and water
which is absolutely FREE .... but only
on Mondays between the hours of
1am & 1:15am.......
Ps...only kidding... we haven't got a
TESCO's....